Hungry Like the Wolf
By: Jase Peeples
1.6.2014
You don't need heightened senses to sniff out the queer appeal of MTV's Teen Wolf. The basic premise of any werewolf legend — beings who must keep a part of their true nature hidden because society fears them — has enough subtext embedded in it to draw in LGBT fans. But since the supernatural series debuted in 2011, Teen Wolf has moved beyond the realm of allegory and consistently set a new standard for LGBT representation on television.
In the world of Teen Wolf, homophobia is nonexistent. Among the characters on the show, differences in sexuality are accepted with the same ease as differences in eye color, and romance between gay characters is depicted in the same manner as its straight counterpart. Bold choices for a series aimed at a young audience, but it's a direction show creator Jeff Davis says he was intent on taking from the beginning. "As a gay man myself, I've long wanted to see a good representation [of gay characters] on TV," says Davis.
"One of the most important things to me when we were creating the show was to try to build a world where we weren't actually talking about coming out and all the problems of homophobia. I wanted it to be an idealized world — one where being gay isn't just accepted, it's a part of everyday life."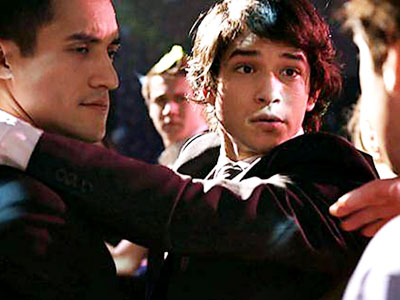 At right: Keahu Kahuanui (left) and Tyler Posey.
Though antigay groups may howl over the show's cutting-edge approach to sexuality, the popularity of Teen Wolf proves there is a new generation of LGBT viewers hungry for greater representation in mainstream entertainment. The series is currently ranked number 1 in its time slot not only among teens, but in the broader, coveted 12-to-34-year-old demographic as well. "It's a huge part of our show and I think a big reason why some people watch," says star Tyler Posey (who plays the titular werewolf, Scott McCall) of the show's inclusion. "I love it because I have a lot of friends who are gay and lesbian, and for a ton of people like me, that's a part of everyday life. It's been great to see LGBT teens come up to Jeff [Davis] at conventions and thank him for giving them an opportunity to see themselves reflected on TV this way."
Posey's enthusiasm is shared by his cast mates, including Charlie Carver, who plays Ethan, one of the identical twin Alphas introduced at the beginning of show's third season and the current romantic interest of Beacon Hills High lacrosse goalie Danny Mahealani, played by Keahu Kahuanui. "I really respect the work Jeff has done and I completely trust the way he's developing our characters," says Carver. "Presenting a world like that to teenagers is encouraging, without throwing it in anybody's face. The love scene I had with Keahu this season didn't feel like it was trying to make some kind of comment or be loud, it was just a natural progression of the story Jeff wanted to tell. I'm honored to be a part of it."
The second half of Teen Wolf's season 3 kicks off January 6, and Davis promises the show's upcoming story arc will feature the development of Ethan and Danny's relationship as "a very big plot point." He's also adamant about increasing the show's diversity to include people from across the LGBT spectrum in the future. "I'm particularly interested in trying to figure out how to introduce a transgender character," he says. "And if I stick around for a fourth season, we'll definitely be seeing a lesbian werewolf." However, one thing Davis doesn't plan on changing is the casual way in which he introduces LGBT characters. "My hope is if life imitates art, then maybe some people will accept this as the way life should be."